General News
Nov 2019 News Update
Friday, November 1, 2019

Gigs this month
Settle
On the 4th of last month Hilary and I drove to Settle close to the Lake District in time for my concert on the 5th at the charming Victoria Hall, the oldest music hall in the world and a listed building. The venue, sound man and staff were lovely, and on top of that we were able to leave our kit in a safe place to collect the following morning. Settle has a couple of celebrities who live in the town, one being Mike Harding and the other being Alan Bennett. I did spot Mike in a coffee shop as part of the museum but didn't want to disturb.
Hockley Heath Charity Concert
I was invited months ago to appear at a fund raising event in my old village of Hockley Heath, Solihull at The Oak Hotel in aid of Sepsis research. I went on first because we needed to get away early, but it was lovely to see my daughter in law there with my lovely grandson Braden, also old friends of Jamie who was sadly taken because of Sepsis. A great time was had by all who attended. A big THANKYOU to the local Uke group for inviting me to this worthwhile event.





Astor Theatre, Deal

It had been many a year since I played at the Astor and it was truly great to be back. The trip was made doubly pleasurable being hosted by our beloved webmaster Sue Holton and husband Mike in their Ramsgate home.


We drove the 220 miles the day before and the following morning we were taken to one of the best antique and collectable centres ever - Petticoat Lane Emporium in Ramsgate. Whilst there I stumbled upon a stunning little Tenor Uke being sold at a real knock down price. On giving it a quick strum I just knew that it was a really sweet instrument that needed a home in the Giltrap household. I have never really written anything for the Uke so maybe the time has come!




The concert was well attended with over a hundred tickets sold, and the audience were just great. After the gig I was chatting with an old friend I worked with just prior to turning pro and was hoping to keep in touch and I didn't get a contact number. His name is Chris and if he's reading this maybe he could contact me via the website.

Celloman


A huge THANKYOU to Sue and Mike for looking after us so well and introducing us to the music of Ivan "Celloman" Hussey who was playing in a restaurant close to them. We had heard so much about this musician, so it was great to finally hear him play using some very sophisticated equipment that allows him to loop what he does and create a really huge sound via midi and backing tracks. Totally unique and a pleasure to meet.

http://www.celloman.co.uk/
Deal, Review by Brad

This was the fist time in nearly 5 years since I had last seen Gordon play and really looked forward to the concert.

It was a 90+ miles round trip for me in less than ideal weather conditions, involving a trip along the M2 and A2 at peak Friday commuting traffic time ... mainly in darkness. Okay, I did switch on the car lights but the rain made it a less than pleasant journey - both ways. Am I complaining? No, far from it as the concert was well worth the journey.

When booking the seats I opted for front row, centre stage seats, though had some reservations when told that it was a high stage and would be effectively looking straight up Gordon's nose! Arriving at the theatre immediately dispelled any such reservations as to booking foolhardiness. The stage was about just over 4 feet away and only about three feet high, with Gordon's position right to the front of the stage. Just about ideal for being able to see if I could follow his guitar playing techniques.

So, what sort of a concert was it? I won't give a tune by tune account but just refer to some highlight moments. There were a couple of new numbers. One about 'Kisses' and another about 'Starlight' (I think those were part of the titles) and look forward to hearing those when the new album(s) are ready. Amongst the familiar tunes were 'On Camber Sands', always evocative of past visits there - not for well over 40 years though, 'Isabella's Wedding' (complete with introductory anecdote) and 'Appalachian Dreaming' with renowned 'ping-pong'.

However, the highlights were the familiar but unexpected performances of 'Heartsong' and 'Dodo's Dream'. Of course, as most of you will know, those two are a mainstay and, dare I say, demanded of Gordon in any concert. On this occasion fate took a hand, first of all on 'Heartsong'. Unusually, from past performances I have seen, Gordon played this in the first half of the show and that in itself was unexpected - the energy level used in that performance would probably finish off most guitar playing mortals, though not Gordon. He also used the super Gibson jumbo guitar given to him by Pete Townshend (yes, that one, though I won't recount the accompanying anecdote - you'll have to go to a concert to get that). The 'unexpected' was that part way through a technical glitch cut off the amplification leaving Gordon playing completely acoustically. Now that might irk some guitarists and even more of the audience! Not a bit of it. Gordon momentarily stopped to enquire of the sound desk what had happened, and then continued playing acoustically, undeterred.




My choice of seats for this concert proved to be an inspired decision as I was able to enjoy, for the first time, Gordon playing acoustically, unenhanced and brilliantly that oh so familiar musical piece. The Gibson guitar was just right for that and will be a memory etched in my mind for a long time to come. Fortunately, the sound system was returned to complete the performance of 'Heartsong' for the rest of the audience - sadly those further back in the auditorium will have missed the privilege of the acoustic part rendition that I experienced.

The 'unexpected' part of 'Dodo's Dream' was a repeat of the technical glitch to the sound system shortly after Gordon had started and whilst setting down tracks on the loop station. There is no 'acoustic' opportunity of redemption for this one and a 'start again' situation was demanded. Many well-known musicians may well have had a hysterical moment or outburst - not Gordon, as all taken it his stride and recommenced with apologies (none needed really) and continued to completion. This was the response of a consummate professional whilst maintaining a friendly relationship with the audience.

I always look forward to performance of 'Dodo's Dream' as there is always something a little different in each performance - whether deliberate or accidental (doesn't matter) - giving it the 'organic' feeling that Gordon has alluded to in concerts. Long may it continue thus.

Sadly, the concert was over all too quickly - does time speed up as you get older? Note: must re-read my Stephen Hawking 'Theory of Everything' as I must have missed some of the answers to that question.

I must mention the Astor Community Theatre in Deal. It has a single level auditorium of about 150 seats permitting a reasonably intimate setting for the audience and performer and is my sort of preferred type of venue. Added to that was the friendliness and helpfulness of the staff throughout my visit making for just that little bit extra enjoyment to the occasion. Thank you to all at the theatre.

Thank you especially, Gordon, for a wonderful evening entertainment. I gave up trying to learn any techniques from the performance and just enjoyed it from my privileged seat position. Really good to see you back to health Gordon.

Kind regards to all
Brad


Charity event

My beautiful stepdaughter Ruth (pictured below left) asked me if I would perform a short guest spot at The Gracechurch Centre in Sutton Coldfield to help raise funds for a local dementia charity. This was all part of BBC's MUSIC DAY in connection with the company Ruth works for called Home Instead, which is a national organisation for the elderly. You have probably seen the ads on TV.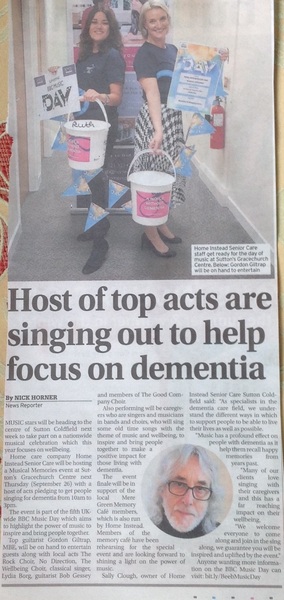 Anyway here is a clip from the local paper. There were two local choirs performing as well, one of which our friend Dave Ellison helped to create. It was Dave and Paula's daughter I composed Prayer for Phillippa for all those years ago.

It was lovely to see local people turn out to support this worthwhile cause.




Upcoming Events
As I write this, on the 25th of October I shall be playing a charity event in Droitwich at a Special Needs centre. I'm looking forward to sharing the evening with friends Paul White and Ray Mytton. Paul is the editor of Sound on Sound magazine an old friend who has engineered many of my albums. Ray is a fine singer songwriter and guitarist.







On the afternoon of the 23rd I had a really good rehearsal with Adam Parrish in readiness for my concert at The Guildhall in Lichfield on November 1st. Adam is a great keyboard player and joined me a few months back at the Greystones gig in Sheffield where Carrie Martin was my special guest.
With Adam's Dad Russ - rear view
Sharing Days reminder - next date 1st Dec 2019
From 2017 I've been holding what I call "Sharing Days" and I'm delighted to welcome old friends and new to what hopefully will be a fun and informative day sharing my thoughts with you, once again at the charming Castle Park Arts Centre, Frodsham, Cheshire. This will be another return visit for me and one I'm looking forward to very much.
My chosen piece for the day is A Christmas Carol. Tab for the chosen piece will be emailed to you when you sign up.
The plan is to accommodate between 10 and 12 players who want to spend the day sharing all aspects of my music, my technique, composition, my advice on guitars, open tunings, nail care (yes even nail care) equipment, in fact as much information as I'm able to impart on the day. This will be aimed at mainly acoustic players but all players, electric or acoustic are welcome.
My special guest for the afternoon is that outstanding guitarist/teacher/ composer Martin Pleass.


I'm hoping he will be bringing that amazing Ralph Bown harp guitar along and demonstrate his skills on this monster of an instrument. Martin also has some impressive connections with world famous legends and I look forward to hearing about them on the day!
At times there may be other people to assist in any way they can. I really look forward to them as they are a fun INFORMAL gathering of players who like me love this instrument of ours.
The fee is £100 for the day.
The evening will see me perform an intimate concert in the upstairs gallery. The seating is limited so those who just want to attend the concert should book early. Those attending the workshop will have free admission to the evening concert.


Please get in touch for more details about Sharing Days and Weekends or go on the mailing list for future events.

E-mail Sue Holton for more information.
Oliver Wakeman - To the Moment

This stunning song was written by Oliver Wakeman during his time with Yes and has been in storage for some time. Now at last it has found a home on a brand new release by the band. Oliver not only wrote this mini masterpiece called 'To the Moment' but also produced the track and the beautiful video to promote the track.

The vocals are by Benoit David who does sound uncannily like the great Jon Anderson. The guitar is unmistakably Steve Howe and the outstanding keyboard solo couldn't be anyone else but Ol and brings back fond memories of the work we did together on Ravens and Lullabies. The man is a genius. http://yesworld.com/


Guitar of the month
The reason I'm featuring this stunning work of art is because it's a reminder of the fantastic craftsmanship of the late John Bailey who made many guitars in the 60's and 70's for many musicians at the time. The first time I saw a Bailey guitar was in the hands of Bert Jansch the very first time I saw him live. I was so impressed by the guitars sound, but if truth be told more impressed by the genius of Bert that I had to find out about this man John Bailey. Eventually I met him and bought a guitar that featured on quite a few albums the main ones being Portrait; A Testament of Time; Giltrap and Visionary. By the time of Perilous Journey I was using two guitars, the Bailey and a Fylde that Roger Bucknall made me.



The twin neck featured here was bought second hand from a Melody Maker ad for the princely sum of £250 from journalist Ralph Denyer. It was featured on the inside sleeve of Visionary and has become strongly associated with me over the years and is sort of a logo to a degree. I did use it on a few recordings and on stage, but the electrics were a bit dodgy so in the end it wasn't worth the risk.


Of course many will remember me using it on my first ever live DVD at Huntingdon Hall where I plugged it into the wrong jack socket only to be told by a member of the audience our friend Nicky where I had gone wrong! I finally plugged it into the right place midst much laughter and performed Sallie's Song.


I foolishly sold it in the early 1980's via Bert Jansch's guitar shop for about £400 and later bought it back again via a Melody Maker ad that Hilary spotted for about £700. I'm certain that John who sold it to me will remind me of the exact details and the amusing story of when I rang him to enquire about it only to be told that it had an interesting history being once owned by GG!!


Very recently John Bailey's name came up in conversation with an old acquaintance from years back, one Mr Al Stewart who's Brum concert myself and Paul Ward attended. We met before the concert and had dinner together where I reminded him of the fact that he once owned a Bailey guitar, a beautiful black one which he eventually gave away because it didn't quite have the sound he wanted. My one sounded fantastic to my ears at the time and was coveted by John Renbourn and Andy Powell of Wishbone Ash, in fact Andy and I did a brief swap for a Gretsch guitar but then we both decided to swap back which was a shame really because the Gretsch would be worth a small fortune now. Hey ho you can't keep them all, and anyway we are all just custodians and they will be played by future generations once we have departed this present life.
Some very dear friends of mine are creating hand printed T shirts and I suggested this guitar as an interesting image to have on the front. If they do create something suitable I would certainly be proud to wear one on stage, so watch this space as they say.
About three years ago an old friend kindly returned a John Bailey Dulcimer that the great man made as a wedding present on the occasion of my first marriage. I had gifted it to this friend's Mother who passed away. Through various circumstances made instrumental by my son Jamie the friend returned it to me in the original case that I made for it, I also had to make a case for the Twin neck but that's just an aside. I used the Dulcimer for a short while on stage and recorded Spellbrook Meadow on it for the Giltrap album. The instrument carries very strong and varied emotional energy connected with it and I still don't feel the time is right to use it yet, but it is now back with me safe and sound under the bed in the spare room!