General News
August 2012 News Update
Wednesday, August 1, 2012
Giltrap and Wakeman
Well, the tour is now booked and you have all had sight of the dates by now, but in case you've not seen them I've included a full list below.
I'm currently preparing material from my and Oliver's repertoire for the tour and must confess to be pretty terrified by all this. This will be my very first foray into progressive rock for many a year and of course I want it to be perfect. Oliver is a joy to work with but as yet we haven't been in a proper rehearsal situation. I shall report back at the end of August because that is when we plan to start rehearsing in earnest for the tour and of course the album.
We shall be playing material from our respective back catalogues and of course some of the new pieces from
'Ravens and Lullabies'
I just hope I can keep the energy levels up to keep up with this outstanding and vibrant young Wakeman. He has DEFINITELY inherited his father's genius and more. Scary or what!
Ravens and Lullabies Tour Dates

22nd Sept
Huntingdon Hall, Worcester
www.worcesterlive.co.uk - 01905 611 427

27th Sept
The Playhouse, Weston Super Mare
www.theplayhouse.co.uk - 01934 645544

29th Sept
Trowbridge Arts Festival
www.trowbridgeartsfestival.co.uk - 01722 321744

2nd Oct
Band on The Wall, Manchester
www.bandonthewall.org - 0161 834 1786 or 08452 500500

12th Oct
Guildhall Arts Centre, Grantham
www.guildhallartscentre.com - 01476 406158

13th Oct
The Wesley Centre, Maltby
www.classicrocksociety.co.uk - 01327 310088

17th Oct
Farnham Maltings, Farnham
www.farnhammaltings.com - 01252 745444

18th Oct
The Brook Theatre, Chatham
www.medwayticketslive.co.uk - 01634 338338

19th Oct
Ashcroft Arts Centre, Fareham
www3.hants.gov.uk/Ashcroft - 01329 223100

26th Oct
The Junction, Goole
www.junctiongoole.co.uk - 01405 763 652
London Acoustic Guitar Show September 23rd
I have been invited to play at the
London Acoustic Show
at
Olympia
on Sunday September 23rd. My spot will take the form of performance and masterclass.
Newton Faulkner
is headlining the Saturday night show. Other artists appearing include
Thomas Leeb, Andy Mckee, Sandi Thom, Nick Harper, Jim Moray
and many more. I'm sure other names will be added as the date approaches.
This is going to be a great show and I look forward to seeing you there!
Call 01926 339808 for tickets,or go to
www.londonacousticguitarshow.com
for more info.
GG 2000 Acoustic Donated For Charity
Our good friend
Scott Roberts
has kindly donated his
Vintage GG 2000 signature acoustic
to the
Tracy Sollis Leukaemia Trust
as a fund raising raffle prize. This generous donation will hopefully raise a substantial amount for the charity over the coming months.
Gordon Giltrap signature guitar donated by Scott Roberts




This guitar (signed by Gordon) is the exact model that he uses on stage and for recording. There are many clips of him playing it on Youtube.

The guitar comes with a fitted Kinsman case and has a built in Fishman pre-amp and tuner. This guitar was awarded Acoustic Guitar of the Year by the MIA (Music Industry Association) and represents outstanding value for money. Every major guitar magazine here in the UK awarded it five stars across all categories!

Players that use this guitar include Brian May, Midge Ure, Nik Kershaw, John Hyatt, John Etheridge, The Fisherman's Friends, Tristan Seume, Tom Toomey (the Zombies) and many more.

The recommended retail price for a GG2000 signature model is £479 inc vat and the fitted case.

Sue Sollis of the Tracy Sollis Leukaemia Trust says: "The tickets are yet to be printed and the draw date confirmed, however I think it would be good to do the draw at Gordon's Annual Event at the Fleece Inn, Bretforton, scheduled for next April. I know it's a long way off but we should be able to raise lots of money by doing it that way!"

Many thanks to Scott for such a generous donation and Gordon for his continued support".
Anyone interested in purchasing raffle tickets for this very worthy cause can contact
Sue Sollis
via her e-mail address
info@tracysollistrust.org
or by phone (01386) 421424. Details of when the prize draw will be shall be put on both my website and the charity's website when announced.
Thanks again Scott for this wonderfully generous donation. You are indeed a friend.
What an amazing review for my Fret King GG electric!
Jazzwise
- August 2012 edition carries a review by
David Gallant
of my new
Fret King GG electric guitar
describing it as 'as close as it gets to the ultimate electric instrument' !!
Click the PDF icon at the bottom of this page to read it for yourself.
Gigs of note
Wimbourne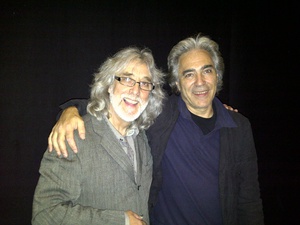 The concert with my good pal
Woody Mann
at Wimbourne went superbly well and working with Woody has been and will continue to be a joy. Woody insisted on playing the first set and I followed on then invited the great man to me for three duet pieces. Maddie Goes West, which always works with additional players and Isabella's Wedding, a favourite of Woody's from my repertoire. We were called back for an encore and played that lovely gospel piece Great Dreams of Heaven made famous by the Bahamian guitarist
Joseph Spence
. All in all a lovely evening with friends
Andy Smy
and the
Gannicott family
in attendance.
Penrith and Malvern
Since then I have performed at two delightful private concerts, one in
Penrith
at a private school and the other was a lovely wedding in Malvern for a lovely couple
Andy and Carole
.
Mike Stranks
did the sound for me at Malvern and also recorded the concert for the happy couple.
I always feel a bit under pressure when doing private concerts of this nature because it is SUCH a special day and one SO wants to make it special and memorable. I hope I achieved this, I think so judging by the lovely letter I received from the groom. So that was good to know.
Review by Andy Hull

Hi All, The evening was magnificent and well exceeded expectations, in fact it was the highlight of the day and really made the event most memorable (It will continue to do so with the recording and photos!). We had quite a number of very knowledgeable guitar fans amongst the guests and invited some local neighbours who are musicians for the evening session.

We had kept Gordon a secret but advised people that we had a very well known guitar player coming to entertain us and I teased them that he had played Glastonbury, appeared on Top of the Pops and The Old Grey Whistle Test and made numerous albums. Lots of people had a go at guessing who it might be with names as far apart as Eric Clapton and Django Reinhardt (the latter would have been 102 had he still been alive but sadly he died in 1953 aged just 43!! that's the thing about music that lives on in recordings for generations) Shows the age range of our guests though! However two did actually guess Gordon Giltrap although I didn't let on.

Gordon and Mike were just great and although Mike had to leave to get back to a festival he was also working at, Gordon stayed on and chatted to our guests and ourselves whilst sharing a bottle of red wine. Everyone was delighted to have met him and also with the surprise element of his being there. Even the youngsters who had never heard of Gordon were enthralled. My Best Man and his wife had breakfast with Gordon and Hilary, that was a real thrill for them. Unfortunately we didn't get a chance to say farewell as we were rather busy clearing the floral decorations from the room but will no doubt meet Gordon again, possibly at his annual Fleece Inn charity gig in Bretforton.

I couldn't have thought of a better way to entertain our guests, so very many thanks for your organisation and help throughout. The cheque is in the post, as the saying goes. Well it will be first thing in the morning.

Kind regards and thanks again,
Andy Hull
Great Malvern
Back to the Penrith gig.
Peter Sorton
, a lovely man was responsible for making this concert happen. Peter is a very keen guitar player who started out on steel strings but has over the last few years gone over to the classical guitar. Hilary and I had a wonderful time the following day at Peter's home where he delighted in showing us some of his wonderful instruments. I hadn't really played many high end classical guitars and for me it was a revelation. Because Peter doesn't play steel string guitars any more, he has kindly loaned me a beautiful
Michael Baranik
USA made guitar. I shall be using it on some future recordings that's for sure. More pictures and guitar info later in this News.
Warmington
Another outstanding evening for me personally was at
Warmington Church
where many friends and family members (well one actually, my cousin
Ann
and her partner) were present.
Keith Meredith
has already written a superb account of the evening on the discussion forum bless him.
Everything was just right about the whole event. The weather, the venue, our hosts
Chris and Arlene
, the audience, everything, and I was OK as well. My thanks to everyone for making it SO special.
Bargoed
My concert in
Bargoed
the following day went well also considering that it was a little out of the way, and the last time I played in Wales the turnout was poor. Not so in this case and
John Fenton
had done a cracking job in promoting it so "well done him" Of course it rained pretty much nonstop, and because the concert started early and thus finished early we decided to drive straight back. A pretty long drive and the rain was horrendous but fortunately we got back OK, and it gave us that extra day to catch up with e-mails, washing, etc .
Extracts from reviews of Bargoed Concert by John and Cath Fenton

Full reviews available HERE

"I didn't know who he was until I came to the concert, but now I'm a fan"

"The hairs on the back of my neck stood up – I was glad he played to finish it as I couldn't have taken any more" – comment on "Dodo's Dream"

"After this, why am I bothering to pick up a guitar?"

"One complaint – the concert wasn't long enough"

These were some of the comments after Gordon's concert of 7th July. St. Gwladys' Church Hall hosted Gordon for a question and answer session in the afternoon and a concert in the evening. Those who attended the afternoon session found that Gordon is an excellent raconteur and a thoroughly nice, humble, man – he has worked with all the big names in the music business, and still feels that others have something to teach him.

Those who attended the concert went away knowing they had experienced something very special – an artiste of Gordon's calibre performing in an intimate setting. To say Gordon is a good guitarist is an understatement – he is brilliant. Can we have him back please? - Cath

I learnt one important thing that evening – that there is a different kind of attention involved when one is a concert organiser, as opposed to a concert goer. I realised that, sadly, Gordon did not have my full attention, because there were other things to think about as well – making sure that I didn't make any stupid mistakes with the sound desk, that the stage lights were behaving themselves, getting some decent photographs, whether the person I had seen wandering around the foyer was entitled to be there – all distractions. So I now know that if I want to really enjoy a concert, I am better off not being the organiser! - John

You can also see a gallery of photos from the day HERE - again, thanks to John Fenton
Swanland Festival
My appearance at this year's
Swanland Festival
was an absolute joy. Swanland is a beautiful village a couple of miles from the Humber Bridge. This concert was at the invite of my dear pal
Garry Burnett
, himself a fine guitarist. The concert was on Saturday the 14th of July, but the night prior Garry, myself, his brother
Andrew
and the singer
Carrie Martyn
drove an hour and a half to the beautiful Robin Hoods Bay to be a part of the singer's night at the
Dolphin Inn
. It is a favourite club of Garry's, and I had played an impromptu set there a few years back. What a great fun evening this turned out to be. It took me back so many years to my early folk club days when clubs like this were in their hundreds dotted round the country, where folk just turned up to do their thing completely unaided by sound systems. Once I had played my spot, I then accompanied Carrie on her lovely version of Time After Time. I then joined in with a fiddle and concertina duo. It must have been the "Old Peculiar" that did it!
I look forward to the next time.
Budmouth College
On the 19th of July I was invited by my granddaughter
Abi
(who has recently taken up the guitar and has a lovely singing voice) to play a lunchtime concert at her school in Weymouth.
Budmouth College
is a relatively new school with over 3000 pupils.
Neil Cruikshank
was the man responsible for making this happens, and I'm so glad he did because it gave me the opportunity to spend some quality time with my family, and to share some of my knowledge with the school's guitar group. The family have just moved to the beautiful village of Chickerell just outside Weymouth, and the B & B where we stayed was a delight. We even had some sunshine, and spent a day in Charmouth....... fossiling!
Back to the lunchtime concert: Because it was getting close to the end of term there were quite a few students missing, but they managed to rustle up at least an hundred or so to attend the concert which I'm pleased to say was well received.
John
who did the sound for me turned out to be an amazing chap with an interesting musical past. Originally from the east end of London, John spent many years running his own recording studio and touring the world with 80's band
The Thompson Twins
. John even co wrote the song "I woke up this Morning" that has been used worldwide as the theme song for hit TV series
The Soprano's
. Amazing the people you meet along the way isn't it!
I look forward to playing the school again and to working with John and Neil again. John says that he wants to introduce me to the delights of "Cheddar" the local and rather potent cider!
Feature in R2 Rock'n'Reel Magazine
I was recently interviewed by
Trevor Hodgett
for the
Irish News
and
R2 (Rock'n'Reel)
, the English roots music magazine.
A shortened version appeared first in the
Irish News
but you can read the full 2 page interview in the current edition,
Vol 2. No.34 July/August 2012
of
R2 / Rock'n'Reel
. Please visit either their website or
Facebook
page
Jon Lord RIP
It was with sadness that read that
Jon Lord
had passed away. Although many of us will know of his work with
Deep Purple
, he was in later life recognised as a fine composer of beautiful orchestral music, and of course many of his compositions gained great success via Classic FM. Hilary and I met him at Lichfield Cathedral a few years back where he was performing his wonderful works. A warm, friendly and dignified man with great presence. It was nice to have shaken his hand. The world has lost a fine composer at such a relatively young age.
RIP Jon
.
This months guitar
This month's featured guitar is a bit special. It is made by the American luthier
Michael Baranik
, and is without doubt one of THE most beautiful guitars I have ever had in my possession. This guitar has been kindly loaned to me by
Peter Sorton
mentioned above and was made in 2005.
The very best woods have been used to fashion this amazing parlour size guitar. Rio Rosewood for the back and sides and top grade spruce for top, along with ebony fingerboard and bridge and the most gorgeous abalone inlay for the body and sound hole. Even the machine heads are a work of art. "Well, it looks pretty but how does it sound" I hear you cry. It sounds like no other guitar I own. It is no better in tone than my others but like my other guitars; it has its own unique voice. The photographs don't really do it justice.
As I said before, this guitar is on loan indefinitely and I certainly couldn't afford the 5 grand plus asking price for a guitar with these high end appointments. It will never leave the house, and is strictly a recording tool, and I'm sure I shall find the right pieces in the future to do it justice. Thanks again to Mr Sorton for his generosity in loaning me one of his prized guitar possessions.
A wonderful photograph
I just wanted to share this image with you. Taken at the 60th Birthday of
Bert Jansch.
Left to right..
Roy Harper
..
Johnny Marr
..
Bert
..
Roy's Lady
..
Me
.
Unusual to find a smiling pic of Roy Harper!
Amazing Coincidence
Tony Skinne
r is the director of
RGT, The Registry of Guitar Tutors
. I have given master classes there on occasion and am proud to be a patron. Tony's local guitar shop happens to be
Old School Guitars
owned by my friend
David Crozier
. Tony was in there recently and bought a Vintage resonator Tri Cone guitar that had once been in my possession. After purchasing it he decided to get it set up. When he returned to collect it he saw another guitar he really took to made by the late
Rob Button
. After playing it he decided to buy it. This guitar was also part of a collection of instruments the shop is selling for me.
So Tony is now the proud owner of two ex GG guitars! Both these instruments have been used on albums. TheTri cone was used for Ring of Kerry, and the Button was used on By Angle Tarn, both on Shining Morn, the later also appeared on From Brush and Stone.
Tony sent me an e-mail saying how thrilled he was with both instruments. I'm delighted they have gone to a good home!