General News
October 2010 News Update
Friday, October 1, 2010
Lucky Steven bags Vintage VE2000GG Gordon Giltrap Signature Guitar
Steven Smith
of Bridgwater has won himself a
Vintage VE2000GG Gordon Giltrap Signature Guitar
from a competition in the concert programme of Gordon's recent
'Shining Morn'
tour.
A long-time fan of Gordon's, Steve managed to meet up with the acoustic Maestro and have the guitar official presented to him at a local
4 Parts Guitar
concert.( You can read more about the concert below ) "I was both astonished and delighted" says Steven. "I had not thought that I would ever own such a high quality instrument as this, endorsed as it is by both Gordon and master luthier
Rob Armstrong
, and I thank
John Hornby Skewes
for their generosity in providing such a magnificent prize."
The
VE2000GG
was developed in collaboration with
Gordon
,
JHS
and
Rob Armstrong
, master luthier and designer of Gordon's original custom built guitar on which the signature model is closely based.
Steven continues "Now that I've had a chance to play the instrument, I have to say I'm very impressed with the tone, build quality, action and intonation. I'm absolutely delighted with it and the excellent hard case provided with it. It is easily worth the asking RRP - the JHS reputation of providing well priced, quality instruments will most definitely be further enhanced by the VE2000GG".
Gordon says of the win "Well done sir! Nice to know that the guitar has gone to someone who appreciates it for what it is - an outstanding guitar by anybody's standards and at any price!"
Vintage Guitars
are distributed in the worldwide by
John Hornby Skewes & Co. Ltd.
The signature guitar retails at £479 and includes a special
Gordon Giltrap Signature hardshell case
.
A 12 string version,
VE2000GG-12
, is also available at £499 including case.
The first reviews of the new guitar are now starting to come in. Click the icons at the bottom of this page to read Guitarist Magazine's Oct 2010 interview with Gordon and their review which crowns the guitar "Guitarists Choice" with 5 star ratings for value for money and an overall score of 4 1/2 stars !
4 Parts Guitar
.
I'm delighted to report that all went well with our first concert at Weston Super Mare on Friday the 10th of September. It was great to welcome
Clive Carroll
as our new member and of course he went down a storm as did
Mr Etheridge
and
Mr Burley
, but why wouldn't they, all being great virtuosos!
Whilst I was there I presented the Shining Morn Tour competition winner of the
GG Vintage guitar Mr Steve Smith
with his prized instrument.
Sue Holton
was on hand to take a nice pic to mark the occasion. The theatre is delightful and all the staff were helpful and friendly. I mentioned to the audience that the last time that I appeared on that very stage was as part of a variety show for the
Water Rats
. I shared the bill with...
Sir Norman Wisdom
(I still have a photograph to mark the occasion)
Paul Daniels, Joe Pasquale
and
Melvin Hayes
. When
Ray Burley
came on to do his spot he announced that the last time he had appeared on that stage was four hours earlier with Gordon Giltrap! Nice to see old friends
Bob and Jane Wilson
(see
Bob's review here
)
Eddie
and
Serena Giddings
and of course
Sue
and
Mike Holton
. Sadly we didn't see much of Mike as he was on dog sitting duty in the car!
The evening was also reviewed on the night by
Darren Paul Thompson @gig junkie
The Weston-Super-Mare Playhouse is certainly not Rock'n'Roll, but I was intrigued to see '4 Parts Guitar' nonetheless as I'm a great fan of the instrument in general, and this was alleged to be a master class.

The stage was set very simply for the four musicians on the bill; chairs, mics, and a soft drape hung loosely behind with a soft coloured pattern projected onto it. This understated setup proved a humble backdrop for the evening's music. The first half of the evening saw four individual and starkly differing performances, rather than the single ensemble I was initially expecting.

First to the stage was Gordon Giltrap, who carried with him both his acoustic guitar and a relaxed aura, softening the audience with self-deprecating quips and a friendly manner. He opened proceedings playing a handful of intensely intricate pieces including his famous, 'Heartsong', which was widely known as the BBC's 'Holiday Programme' title piece. I did note that references to his past were at times unusually wistful for someone both brilliantly able and active, but they were not overbearing.

Next to take the stage was classical guitarist Raymond Burley, who's somewhat formal presence was expertly relieved with a witty comment or two. His enchanting playing sounded as if it had been lifted straight from a bygone century, conjuring both imagery and the atmosphere of a previous era. Much like Giltrap before him, every note was superbly executed, and often intensely complex.

The penultimate guitarist of the shows first half was John Etheridge, who eschewed the emerging pattern of acoustics in favour of his electric guitar. Technically superb, Etheridges's choices of jazzy and South African composed pieces offered variety, if perhaps being a little too novel for the audience to lock fully into the groove with him.

Finally taking the musical helm was the newest member of '4 Parts Guitar', "young man" Clive Carroll. Dressed unassumingly, Clive made a few last minute tweaks before relaxing into his groove, absolutely captivating the audience to their peak. Playing with a 'Rodrigo y Gabriela' style in which every surface of the guitar was utilised and crafted in a host of rarely seen techniques, he played the equivalent of a small band's output through the one instrument. Tapping the base of the guitar boomed rolling bass, and numerous taps, neck bends and finger tricks created not just music but staggering ambience. He proved impressive, unique and mesmerising – a notable feat after the three previous players high calibre benchmarks. Finishing with his amusingly introduced song 'Oregon', he drew every last breath from the crowd as he tied them up in a musical web of percussion-driven magic.

The interlude allowed for reflection on the evening so far – technically incredible guitar playing, surprising variety, if perhaps occasionally a little niche in its content.




The second half of the show drew all four guitarists to the stage at once, each leading proceedings with a brief introduction to their own chosen pieces, before they shared tracks together. Some pieces involved all four members, others were duets, but most importantly all were superb. Their interplay was an assault on the senses – in terms of audio it was difficult to stay on track as rhythms, leads and licks interwove through the air like the smooth threads of audio silk. Visually it was equally challenging as there was so much to see all at once!

A mix of styles returned for the latter part also; a particular favourite of mine was a brief dabble into the Blues which instantly provided the rhythmical fix I had at times craved earlier in the evening. Whilst I could appreciate the technicality and intricacy of the previous pieces, there is little that can connect so instinctively to my musicality than the Blues – this was a welcome addition that had my feet tapping within a second.

Peppered throughout with jokes, banter and fun interactions, the evening ended with an easy informality between the performers and the audience. Combined with the unmistakable talents of 'Four Parts Guitar', the humble and appeasing nature with which they presented themselves only endeared them further. Whilst not a gig I recommend watching if you crave mosh pits and Marshall amps, the evening was relaxed, enjoyable and at times hugely absorbing, and for a fan of the guitar, a master class indeed.

8 out of 10 - Darren Paul Thompson
Rob Armstrong Guitar Auction and Benefit Concert
Concert
I will be performing a fund raising concert for the guitar maker
Rob Armstrong
at
St Michael's Church, Bishops Itchington
on Saturday March 26th 2011. My thanks go to the
Rev. Martin Green
for allowing use of the Church.
All proceeds from the concert will go towards helping Rob rebuild his instrument making after the total destruction by fire of his entire workshop earlier this year. Tickets will be £12 (concessions £10) Available from
Martin Green
via email martin@kerrins.net or 01926 613466
Auction
A few years ago the late
Dave Hodson
, that maker of fine gypsy jazz instruments very kindly gave me a beautiful little tenor guitar that he had made as an experiment. This instrument turned out to be wonderful!
The table is made of spruce. The fingerboard and bridge is of ebony, the back and sides are of a material that I'm not sure of, and the machine heads are top quality Gotoh. The serial number on the label tells us that it is number 328, and is dated 2004. This lovely tenor guitar plays superbly and would I'm sure make a great addition to anyone's collection!
To help raise funds for
Rob Armstrong
,
Acoustic magazine
are going to auction it via E-Bay. I'm SO grateful to Acoustic for their support in this worthy cause in assisting one of the world's great guitar makers to rebuild his workshop and purchase new tools thus enabling him to continue to make outstanding instruments.
Information about the auction should appear in the next but one issue of the magazine, so look out for that. We shall keep you informed and give you information as to when this lovely beast will be making an appearance on E-Bay.
This auction will do a number of positive things. The first one being of course to raise that much needed cash for Rob. The second positive thing will keep the name and memory of David Hodson alive. The list of players that used and owned Dave's instrument were many including:
Hank Marvin, John Etheridge, Garry Potter, John Jorgenson
and many more.
Dave was a lovely and generous man, and I thank his widow
Sheila
for giving us her blessing with this fund raising venture.
Cornish Holiday
.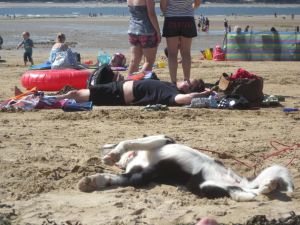 In August
Hilary
and I spent a very pleasant week with the family in Port Isaac.
During that week we visited Daymer Bay and were joined by some friends and their lovely dog Dexter. During the afternoon another person appeared on the beach with his friends and family. It was none other than
Mr David Cameron
who sat, or more to the point lay, literally just a few yards in front of us. I think this picture says it all!
I think it's fantastic that one of the most famous men in the world can just chill out with his family on a Cornish beach and not be hassled or even feel threatened. It has to be said that there were a couple of discreet security personnel close by. We must have bumped into him a few times that week. The first time was on the beach at Port Isaac where we were chatting to some lovely people Alison and Glynn. Alison was collecting old beach washed bits of pottery and creating some bits of artwork with them in the form of love hearts which she donates to the RNLI for their fundraising. When Mr C appeared Hilary suggested that he may like one as gift for the new baby and persuaded Alison to stroll over for a chat and offer the aforementioned gift. Mr C was delighted and donated some money towards the charity. Once again how lovely that he is able to spend time with his children like this in such a relaxed way.
Regardless of your political views, I'm sure you would join me in wishing him and his lovely wife much happiness with their new baby and our condolences for the loss of his father.
A Fantastic New Guitar Shop
I just wanted to tell all you guitarists out there about an amazing guitar shop that I sort of discovered by chance whilst visiting family in Lincolnshire.
The shop is called
Old Hat Guitars
and is situated in the lovely old market town of
Horncastle
. I know it's a bit out in the sticks but I promise you that it is well worth the visit. This guitar shop has got to be one of the best stores in the UK including the West End of London for quality vintage and new guitars and amps. I couldn't believe my eyes when I dropped in on a rainy Monday afternoon.
The walls were filled with some of the most sensational examples of vintage
Gibson's, Fenders, Rickenbacker's, Gretsch, Guild's
etc etc etc. The shop's selection of vintage amps is just awesome! There was even a beautifully restored
Golden Hofner
!
The shop is owned by
Norman
who I believe is a successful antique dealer who has decided to move into the vintage and collectable guitar market. His partner and shop manager
John
is one of the nicest people you could wish to meet, and whilst I was in there strumming on a gorgeous blond
Gibson J 200
, a lady came in with her young daughter expressing an interest in purchasing a beginners guitar. John couldn't have been more helpful.
The main thrust of the
Fender
guitars on display (and I only saw a fraction of what was on show due to the fact that Norman had cleared out the lower part of the shop for a valued friends party) were stored away upstairs ready to be put on display when time allows!
This shop really is an Aladdin's cave of delights and the sort of shop one dreams about!
They have only been in their current location for a short while, but do give John or Norman a call on 01507 525327.They are open from 11-30 onwards Monday to Saturday. Visit the
Old Hat Guitars website
I personally can't wait to get back in there and possibly spend a day looking through their entire stock!
More reviews of the Shining Morn album and tour written by Trevor Raggatt appear in the coming issue of R2 (Rock'n'Reel) you can read them here by clicking the icons at the bottom of the page
Don Partridge RIP
Bit of sad news...
Don Partridge
died of a heart attack last Tuesday. There is an
obituary online
for more info......
In about 1968 I formed a band with Don called
Accolade
. I recorded one album with the band and then left to pursue my solo career.
Don was a character, strange and enigmatic with an immense talent .
A great singer and songwriter at the height of his powers during that period. He was also a pretty fine guitar player.
I hadn't seen Don for the best part of 40 years but carry the memory of that time with me.
Never Mind the Buzzcocks
.
I'm sure that any of you who have watched the programme will know that the rogues gallery line up of past musicians is probably the highlight of the show. They show a clip of a musician from a few years past, in my case MANY years past, and the panel have to guess who the real muso is from the line up, whilst making rude and sarcastic comments about their appearance or obviously in my case their name. I hope they are kind to me!
Filming will be in October or November. As soon as I get a date you shall be the first to know. In some sort of obtuse way being invited to appear on the show is a bit of an honour.
I hope I won't regret this tiny bit of fun, appearing on national telly in such a humorous way but what the heck I'm not that precious...I used to be and can still be at times I know, but I'm mellowing with age!